Tucson, Arizona is the second largest city in Arizona and where Ames Jainchill's architect business is based in Death Wish. Paul Kersey visits the city to make a deal between his architect firm and Ames's.
Death Wish (1974)
Edit
Tucson is a very different place than the crime ridden streets of
New York City
. Many people in New York including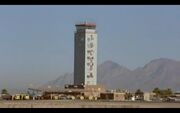 Paul's superior at the firm
Henry
think it's beautiful out there. After Paul's
wife
and
daughter
are attacked by the
Freaks
, Paul tries his best to deal with it. Henry offers for Paul to get out of the city and make a deal with Ames Jainchill's architect business. Their firm had been trying to make a deal to construct houses on Ames's new real estate development but they were having trouble because Ame's didn't want to use up too much of the land. Paul agrees and goes to meet him in Tucson. After arriving in Tucson, Ames immediately recognizes him as a New Yorker and they go to the development. After a few minutes, Paul is able to convince him and shows him a design that Ames agrees to. They later go to an old west show at a model western town called Old Tucson. Paul is impressed at how the actors portray vigilante justice in the Old West and this show contributed to him later becoming a vigilante. Later, Paul and Ames go to the firing range where they talk about guns and how Tucson is safe because citizens are allowed to carry concealed weapons while in New York they aren't. Ames is impressed at Paul's accuracy while shooting and before Paul goes to the airport to return to New York, Ames gives him a present which is later found out to be a
.32 Colt Police Positive
. Tucson is an example of how when citizens are allowed to defend themselves, street crime is nearly nonexistent. Ames comments about this when he and Paul are at the firing range and compares the two cities which are very different.
Ad blocker interference detected!
Wikia is a free-to-use site that makes money from advertising. We have a modified experience for viewers using ad blockers

Wikia is not accessible if you've made further modifications. Remove the custom ad blocker rule(s) and the page will load as expected.