Death Wish 2 is a soundtrack album by British guitarist Jimmy Page created for the 1982 film Death Wish 2.
Jimmy Page was asked by his next door neighbor Michael Winner to do the soundtrack for
Death Wish 2
in only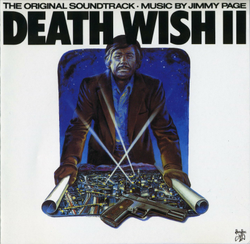 a few weeks. After seeing the film, Jimmy and a few other musicians got to work on the soundtrack and had it completed to Michael Winner's liking. Jimmy was a guitarist for the band
Led Zeppelin
and gave the soundtrack a lot of rock influences. Jimmy wasn't paid for doing the soundtrack and the manager of
Led Zeppelin
used it as a way for him to get his creativity back because he had been depressed. The soundtrack was a success and Jimmy went on to compose the music for
Death Wish 3
.
Track Listing
Edit
Side One:

1. Who's to Blame

2. The Chase Page
3. City Sirens Page

4. Jam Sandwich
5. Carole's Theme

6. The Release Side
Side Two:

1. Hotel Rats and Photostats

2. A Shadow in the City

3. Jill's Theme
4. Prelude

5. Big Band, Sax, and Violence

6. Hypnotizing Ways (Oh Mamma)
Ad blocker interference detected!
Wikia is a free-to-use site that makes money from advertising. We have a modified experience for viewers using ad blockers

Wikia is not accessible if you've made further modifications. Remove the custom ad blocker rule(s) and the page will load as expected.